There's nothing like reaffirming your commitment to a sport than blowing half a paycheck* on stuff you need for your first show of the year, amirite?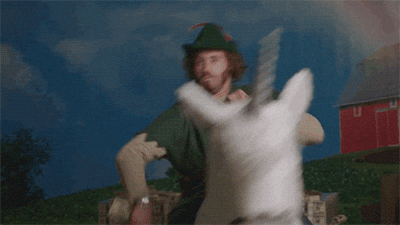 Turns out there were a lot of things I needed.
My XC vest was a very, very old trade from when my barn manager's daughter was literally a kid. I had originally bought myself one of the old Tipperary vests (used, of course) but because of my freakishly short torso my hips were constantly pushing the vest up around my ears.  At some point when your armpits are literally the only thing holding your vest in place and you have no peripheral vision because the shoulders of the vest are flanking your head, you just have to admit that the oh-so-fashionable Tipperary may not be for you.
not actually what your XC vest is supposed to look like
So when the shoulder of this kids' Charles Owen started ripping in a non-repairable location, I knew I'd need something a little different than the norm.  Luckily for me, Amanda reviewed the Airowear a long time ago and Riding Warehouse is my go-to.  Amanda said it before, and I'll say it again: the Airowear is a BEAST.  That thing is hard core, I jumped all around, flung myself into a few walls, and did everything short of throwing my body on the ground Murray-style to test it, and I could hardly feel a thing.  It still rides up a little over my shoulders, but it's not uncomfortable and when the space between your bottom rib and the top of your hips is literally 2″ you are just going to have to make some compromises in life (damage: $300+).
I also lost my Majyk Equipe XC fronts on an outing to Eventful Acres last Summer, and since they haven't shown back up yet, another set of those had to go in the cart (damage: $80).  I originally bought my XC boots as a full set from a kid who had used them only a few times for $90, so paying nearly that full price for just the fronts was a little galling.

but I really like doing this so I'll get over it
Sadly for us, we've ripped through our rainbow reins right where I hold them in my right hand.  And somehow I lost not one but two sets of spare brown rubber reins I used to own.  I grabbed two sets of reins to see which ones I would like more, one by Tory ($50) and one by Nunn Finer ($80).  Of course I like the $80 pair much, much more.  Sigh.
To top off that order I dropped in two sets of bell boots (and somehow the "normal" sized bell boots look like GIGANTIC warmblood ones? we'll see if they even fit my horse's one normal foot) for the show, and a bucket of magnesium because Murray.
this is a good "because Murray" reminder
From Amazon I bought a roll of Tubigrip ($45 with shipping), which I've read about in the World Class Grooming book.  It's my current plan for icing Murray's legs since I'm not going to be able to keep square packs frozen, and there's no reasonable and safe way for me to wrap ice in ziplocks on to his leg (been there, tried it, and just NOPE).  But Emma Ford and Cat Hill suggest you can double down some Tubigrip and stuff ice in the pocket you've made, then wrap that in a polo for insulation.  Since there's an approximately 100% chance that Murray will knock over or break a bucket full of ice, and I really should start icing him after XC (if for no other reason than to stop irritating that extensor tendon edema).  I'll let you all know how it goes.
I was actually hoping I could use the Tubigrip as a compression sock to keep some pressure on that lump when Murray isn't wrapped, but after wearing the bandage for a few hours tonight I'm not sure it will help the way I want it to. I will need to consult one of my vet student friends — maybe I can size down for better edema prevention.  But I think it will be a useful additional layer for poultice, so that could be cool.
I caved to Facebook advertising and bought some Equiderma Neem Oil fly spray ($45 for two bottles, plus shipping).  Apparently this is what you do when you have a real person paycheck?  It was spendy, but not that much more expensive than I will probably spend on fly spray this year anyway, and I like Neem Oil in my garden.  Why not on the horse?  I honestly probably should have just thrown in the Neem Shampoo and tried to get the free shipping, but I figured I should start small.
Finally, I bought myself a new phone ($250) because my beloved Nexus 5x fell into the Android update boot loop on the way home from Hawaii.  I tried to keep spending on this one to a minimum since I'd like another Google Phone when I get the opportunity, but did shell out for the extended warranty because my ability to mysteriously break phones is nothing short of a superpower.  I've gone through five smartphones (albeit, 4/5 were used or refurbished) in less than 4 years.  I must emit some kind of low-dose electromagnetic radiation or sweat uranium or something.
Honestly, there are a few more things I want and/or need, but I'm not sure if they'll make the list before Twin.  Loading your credit card up with $1000 in stuff in a week will really push you to a "only buy the things I NEED" mentality real quick. I need a new helmet as well, my current one is going on four years old and I was its second owner (from a trusted first-owner source, though).  That will not be happening any time soon, but maybe this year I'll get to take advantage of helmet day sales for once?!  I also need a clean square or shaped pad for stadium, gloves for dressage, and a legal-size and acceptably-colored dressage whip.  I want to bathe Murray in a tea tree oil shampoo before we get there too, to help get rid of any lingering yuck on his skin.
SERIOUSLY, THE LIST IS NEVER ENDING.