I borrowed a friend's Stubben Roxanne for Murray's first ride back after Showpocalypse 2016 on Wednesday, and was pleasantly surprised by the ride in all ways.  First, and most entertaining, I put my friend's stirrups down 8 holes (and nearly ran out of leather!) to get them to the right length.  That gave me a good cackle while we were warming up, and to my even greater surprise Murray was really forward at the walk.  I didn't have to nag him at all, he just marched all over the place while I twiddled the stirrups, and before I got around to picking up any contact.
Murray was a little bit fussy and stiff as we started working, but he was happy to stretch out over his topline and maintained his forward pace and through the transitions and the stretchy work.  I, however, was another story.  I was huffing and puffing after our warm up, which is exactly what not riding for two weeks.  But I persevered — even when we almost stepped on a precocial fledgling who was squatting in a really inconvenient place of the arena.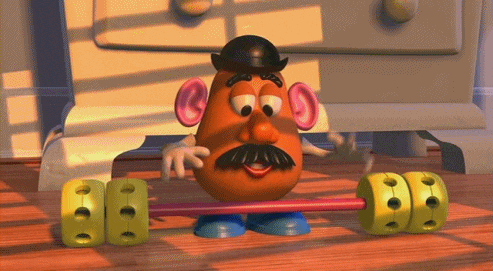 Since Murray was being pretty responsive I thought I would run through all of our "movements" to make sure they were all there in prep for a clinic this weekend, and call it good.  Better than drilling and pissing him off, right?  Tired Nicole thought so.  We did some shoulder-in,  haunches in, leg yield, and tiiiiny circles (15 meter) each way, a couple of canter transitions, a canter lengthening, and even a simple change.  Murray was astonishing the entire time — forward, relaxed, listening.  Sometimes listening a little too well — I tried a trot lengthening and got a perfect canter transition instead.  Possibly too far on the anticipatory side, but I wasn't complaining: as I crossed the diagonal at the canter and down-transitioned to trot Murray immediately picked up the opposite canter lead TWICE.  WITHIN ONE STRIDE.  HE TAUGHT HIMSELF SIMPLE CHANGES THROUGH THE TROT WUT.
So after all that glory I was like "maybe we try for the flying change?" and decided that tired Nicole was not in the best place to try that.
This weekend Murray has a very exciting schedule planned — jump clinic Saturday, dressage clinic Sunday, and possibly an XC school Monday.  He will be a tired boy next Tuesday (which is lucky for him, because that's my long teaching day so he will get to sleep).