Participating in the Blogger Secret Santa last year was one of the best ideas I'd basically ever had, and to be fully truthful I should give credit to Kristen at If the Saddle Fits and Tracy at Fly on Over, because they are the ones who made it known that we should all join!  So when Blogger Secret Santa rolled around this year I was like "um, yeah, that is definitely happening again."
I was delighted when I got Tracy's email, and even more delighted when I saw that I'd drawn our Gracious Leader herself for my gift recipient!  I hemmed, hawed, and procrastinated, and finally went on to Etsy to find her a gift.  I'm trying to take a leaf out of Amanda's book and support more small businesses, and so I browsed until I saw something that caught my eye: monograms and coffee mugs.  It took me a little while to find just what I wanted — I wanted something to be useful as well as pretty, and while I enjoy sitting at home with a pretty mug, I am pretty sure that Tracy doesn't have the work-from-home-luxurious-grad-student lifestyle I do, so I went with a travel mug.  Then it was a simple matter of deciding on colors (helped out by Tracy describing Miles' colors for me and having excellent taste to begin with!) and placing my order.  Oh boy do I ever love the internet.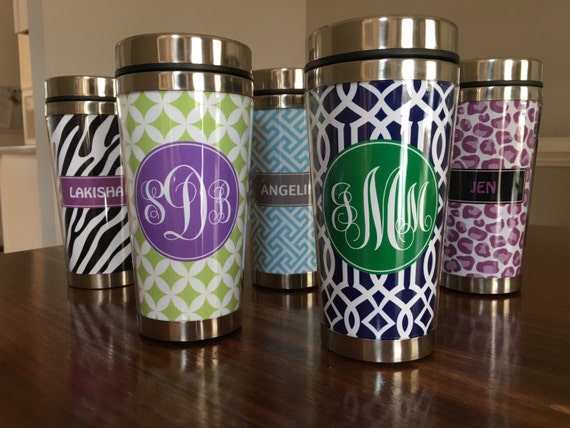 I spent Christmas away from the house, but when I got back my own secret santa gift was waiting for me at the house.  Though it was packed into a single flat rate box that box was heavy so I got really, really excited.  I LOVE PRESENTS.
The gift I received put me slightly to shame* as it was absolutely full of goodies.  The wonderful Terise at Breeches and Boat Shoes sent me a delicious cake scented soap, Herbal Horse lip balm, a Mrs. Conn's soap filled sponge (incidentally I received another one of these for Christmas, and it was also the calming and soothing chaparral and sage flavor… are Murray and I REALLY THAT OBVIOUS?!), several Equine Journals for reading (how did she know all I want to do is sit in front of the fireplace and read? yes, we do light fires in California.  On clear days.) oh and… a magnificent print of Murray and I.
The print/painting/sketch is made by Jessie Pagenkopf at JRyann studios, and is based on one of my favourite pictures of Murray from schooling at Camelot (I believe it is the one Lainey Ashker complimented my equitation on!) and I love! the colour!  This year I managed to collect enough Murray accouterments that I can now start putting things together on the wall.  I have a neat-o idea for that, so stay tuned!
Thank you so much Terise!  This is an absolutely wonderful gift, and I can't wait to look at Murray on my wall every day!
* There is a little care package coming Tracy's way if I ever get to the post office… I just hate that place already and holidays and blah blah blah.  But I'll get there!  As an extra special thanks for organizing!