Manners boot camp is giving me a sad.  I can tell we really needed it because Murray is totally phoning in the "fear" factor during his rebellions.  He looks completely nonchalant (sometimes even glazed over), just going through the motions of the no-no-girthy dance.  Some days are better than others.  None in the last week have been as bad as the weeks prior.  It's still annoying.  And it sets us up for terrible flat rides.  Getting beaten all over the barn aisle makes his already weak hind end sore, then he's all Trippi Hedrin and smashing through poles and then NOOOOOO CANTER TRANSITIONS CANNOT BE DONE NICELY.  Yesterday I even got a good bronc out of him — after a series of successively more polite canter transitions I got him nice and round, asked, and (of course I was looking down) saw his withers rise up towards me like a freaking dolphin, and the double barrel followed.  Hopefully this rebellion ends soon.  I do not have time to be working on rebellion at the same time as I'm trying to dial everything in for Camelot.
Could not figure out how to get Word not to crop off my head and too lazy to open a real image editor. The struggle is real.
However, we have had some really good jump schools (usually following relatively good tacking-up days).  I shortened my stirrups up one more hole (back to our Winter jumping length) and I absolutely hate it.  It's shocking how much half an inch of difference makes to your balance.  But it does!  With that extra half an inch I feel myself pitched forward much more easily as I two-point around.  I might be little, but my legs are long and it feels funny!!  I am clearly a majorly complaining baby right now, wow.  Anyway, I'm going to go with it and work on strengthening my base of support.  Because if Lainey Ashker and Boyd Martin and those utter freaks of height James Alliston and William Fox-Pitt can have short stirrups, so can I.  But I reserve the right to put them back down.
I don't HATE my position with these stirrups… most of the time.
Anyway, after our disasterous jump lesson a few weeks ago, I hadn't jumped with Alana except out on XC one day for fun.  So this lesson we put everything up to Beginner Novice height and went with it.  Murray was fantastic.  Super forward despite the heat and muggy-ness that is uncharacteristic of NorCal, yet very adjustable and listening.  I could feel my old foibles coming back with my new stirrup length and really worked on getting my weight down into my left stirrup to push him off that side when he wanted to fall through his shoulder.  And not throwing myself over fences.  And not tipping forward too much in general.
Latest weird search term: good bascule but hanging knees. Not sure how I feel about it.
We jumped everything boldly and in stride, and only had one little questioning moment at the brush jump.  Murray hadn't seen it yet, but he was back to his old listening self and compressed and went over it anyway.  For which I was very proud.
After having a couple of lessons where Murray was really looky and far too willing to compress himself, this was an awesome way to jump.  Just my forward, happy, jumping pony and myself.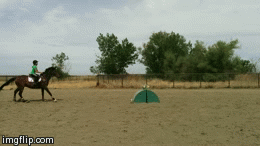 And we jumped the skinny with no standards!  And it was awesome.  😀